Eggs are great for any meal, but especially breakfast because they are filling (goodbye snacking!) and provide a good source of baby-building protein. Spinach is the star ingredient in this dish, because it is rich in iron, as well as the essential fertility-boosting mineral folate.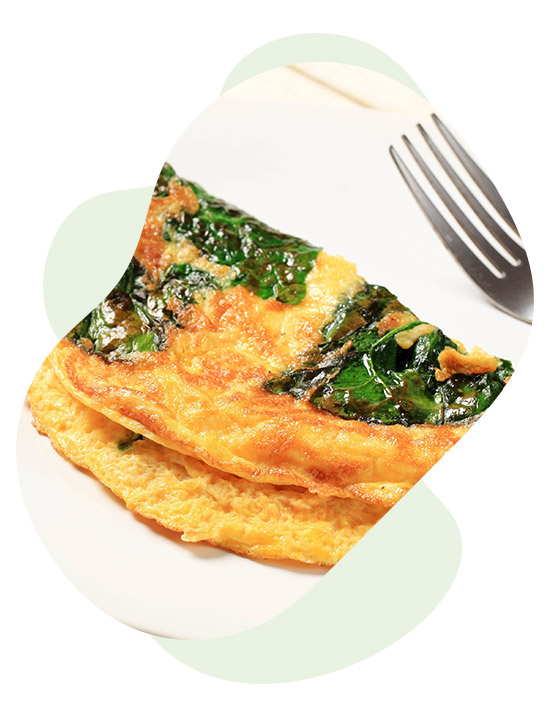 Makes 2 servings
30 minutes
INGREDIENTS:
• 1 large sweet potato
• 1 tablespoon olive oil
• 1 large clove garlic, diced
• 1 cup fresh baby spinach
• 4 large eggs
• ½ teaspoon cumin
• ¼ teaspoon paprika
• Salt and pepper to taste
DIRECTIONS:
Start by heating a pot of water, peel and chop the sweet potato into small chunks, and place the sweet potato in the water. Let the water boil until the sweet potato is cooked through, about 5 to 10 minutes (depending on size of the chunks).
While the potato is cooking, crack the eggs into a bowl, season with salt, and whisk together until well-mixed; set aside.
Heat up a sauté pan with the oil over medium heat. Add the garlic and baby spinach, stirring until the spinach starts to wilt. Turn down the heat if the garlic is starting to burn or turning dark brown. Add the eggs to the pan, stir them into the spinach and garlic, and let cook for about 3 or so minutes. Use a spatula to flip the omelet and continue cooking another 3 minutes (or until egg is cooked through). Turn off the heat and set aside.
Drain the sweet potatoes and keep them in the pot, adding the paprika, cumin, salt, and pepper. Mash the sweet potato and serve alongside the omelets.
* Adapted from Dr. Avena's forthcoming book, What to Eat When You Want to Get Pregnant.
1 min read

Pregnant